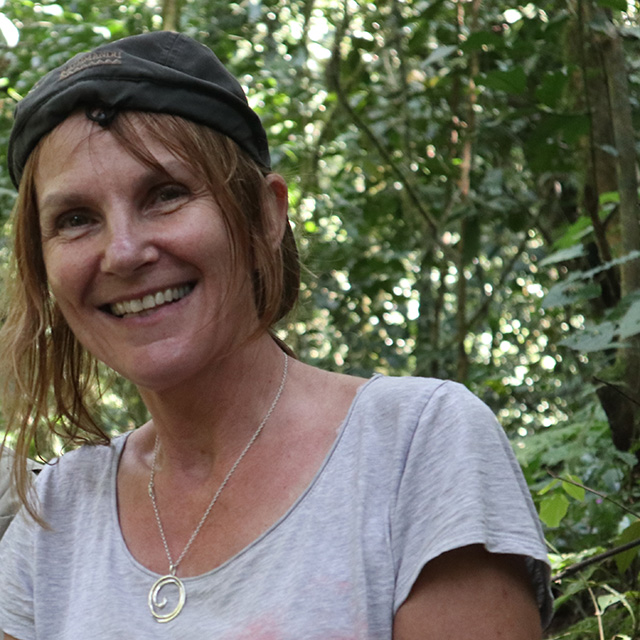 I am a research ecologist with particular interests in plant-animal interactions, tropical forest conservation/restoration and the ecology of plant invasions. I am Founder and Director of the Nigerian Montane Forest Project (NMFP) in Taraba State, Nigeria and am based at the University of Canterbury (UC) Christchurch, NZ.
At UC I teach evolutionary ecology, invasion ecology and conservation biology. I have an active lab group with postgraduate students working in both Nigeria and New Zealand.
Professor, School of Biological Sciences, University of Canterbury, New Zealand
Founder and Director, Nigerian Montane Forest Project
PI of the Ngel Nyaki Smithsonian CTFS_Forest Geo long term forest plot
Professional & Research Interests
Afromontane ecology, conservation science & forest restoration.
Forest community response to global change
Ecosystem services, especially as relates to plant-animal interactions such as seed dispersal and pollination.
Knowledge sharing & capacity building in Africa for conservation and environmental management.
Plant invasion ecology, especially as relates to hybridization, rapid evolution and adaptation, epigenetics and plant-animal interactions.
Visiting Reader, Biology Dept, Gombe State University, Nigeria. 2015
Visiting lecturer Gombe State University 2007-2015
Visiting Lecturer Federal University of Technology, Yola 2004-2007
Represented New Zealand for New Zealand Ministry of Foreign Affairs and Trade at the Academy of science of South Africa (ASSAf) Poverty Reduction meeting in Pretoria 2016
Developed from nothing the Nigerian Montane Forest Project in Taraba State Nigeria.
The station employs 36 fulltime staff, has good facilities and satellite internet. It is a research base for Nigerian and international researchers and postgraduate students. It is a key destination for Nigerian scientists in all stages of their careers and has a major impact in bringing environmental awareness to all age groups and across society from local nursery school children to top Nigerian researchers. We accommodate hundreds of undergraduate students annually.
Funding is primarily from Taraba State Government, Chester Zoo, the A. G. Leventis Foundation, Nexen Nigeria Inc and Rufford Foundation. 2003-present
Oversaw the building of a field station, training and management of over 20 field assistants; established long term monitoring of tree phenology, seed dispersal and forest restoration 2003-present
Found funding from TY Danjuma for a 20ha CTFS ForestGeo plot at Ngel Nyaki forest Nigeria 2015
Advisor to undergraduate Nigerian students based at the NMFP field station for their work experience 2006-present.
Field research in Svalbard as part of NERC funded post doctoral fellowship 1992-1994
I am an Associate Editor (Subject editor) of:
The African Journal of Ecology (AJE) 2016-present
COGENT- Environment (Open Source) 2016-present
Bima Journal of Science and Technology (Nigerian) 2015-present
Mentor for BSc and MSc student research projects, Taraba State University, Gombe State University and Abubakar Tafawa Balewa University, Nigeria.
Chair of the UC School of Biological Sciences Annual Biology Conference – 2017-current
Represented New Zealand for New Zealand Ministry of Foreign Affairs and Trade at the Academy of science of South Africa (ASSAf) Poverty Reduction meeting in Pretoria. 2016
Blogs for ALERT – the Alliance of Leading Environmental Researchers and Thinkers. 'Massive superhighway imperils Nigeria's environment' and  'China's rapacious appetite for timber is devastating West Africa's woodland' 2017
Chair of the Taraba State UN_REDD Technical Committee 2010-14
Worked with the Nigerian Conservation Foundation (NCF) to interact with the Nigerian Federal Ministry of Environment on the revision of the National Biodiversity Strategic Action Plan (NBSAP) for Nigeria. 2012
Invited participation in the Wildlife Conservation Society 'Nigeria-Cameroon chimpanzee conservation action planning group' Calabar meeting. 2009.
Raised $50,000 US and organised the building of a nursery school for 300 children from Yelwa village nearby the Nigerian Montane Forest Project, Taraba State. 2008.
Seconded onto the Nigerian Conservation Foundation (NCF) Taraba State Community Forestry Advisory Committee (2004-2007)
Contract with Birdlife International GEF funded botanical survey of Tchabal Mbabo, Cameroon 2004